Past Event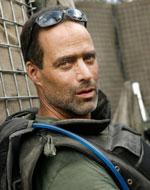 Sun, May 23 2010 - 4:00pm
Sebastian Junger
Documentary Filmmaker; Author, War and The Perfect Storm
This program is cancelled
Junger explores the harsh realities of soldiers dealing with war and combat. For 15 months, Junger followed a single platoon through its tour of duty in Afghanistan's dangerous Korengal Valley. Junger examines the physical and mental strength needed to fight, serve and survive on a daily basis. This experience also led to his documentary Restrepo, which premiered at the Sundance Film Festival this year.
Junger will speak in San Francisco on May 25.
Location: Historic Hoover Theatre, 1635 Park Ave., San Jose
Time: 3:30 p.m. check-in, 4 p.m. program, 5 p.m. book signing
Cost: $10 members, $15 non-members, $7 students (with valid ID)
Also know: Underwritten by The Bernard Osher Foundation. Photo by Tim Hetherington.