Past Event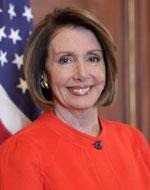 Tue, Apr 6 2010 - 12:00pm
Nancy Pelosi - Just added!
Speaker, U.S. House of Representatives
In conversation with Dr. Gloria Duffy, President and CEO, The Commonwealth Club
San Francisco's Pelosi is in her second term as speaker of the House of Representatives, having made history in 2007 when she was elected first woman to serve in this capacity. President Obama has lauded her as "an extraordinary leader for the American people," and following the passage of the Affordable Health Care for America Act, England's Guardian observed that "Pelosi is being heralded as the most powerful woman in American history and the most powerful speaker of the House of Representatives in a century." Come and ask your questions of one of Washington's most powerful insiders.
Location: Mark Hopkins-Peacock Ct., 1 Nob Hill Circle
Time: 11 a.m. check-in, noon program
Cost: $20 members, $35 non-members, $7 students (with valid ID). Premium (seating in first few rows) $45 members, $65 non-members.
Also know: Attendees may be subject to search. Please do not bring large bags or packages.