Past Event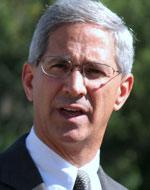 Thu, Mar 18 2010 - 6:30pm
Poizner's Play for Governor: Who Will Win Out?
Steve Poizner, California Insurance Commissioner; Republican Gubernatorial Candidate
Can Steve Poizner defeat Meg Whitman in the GOP gubernatorial primary? From Silicon Valley executive to East San Jose public school teacher, co-founder of the California Charter Schools Association to California Insurance Commissioner, Poizner's resume offers a much different Republican option for governor. Both GOP candidates made a lot of money as Silicon Valley executives, but Poizner is one of only two statewide elected Republicans. Come learn about his plans for restarting the state's economy and addressing its many challenges.
Location: Lafayette Veterans Memorial Hall, 3780 Mt. Diablo Blvd.
Time: 5:30 p.m. check-in, 6:30 p.m. program
Cost: $12 members, $22 non-members, $7 students (with valid ID). Premium (seating in first few rows): $30 members, $45 non-members.