Past Event
Meg Whitman: From Running eBay to Running California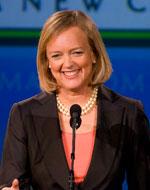 Tue, Feb 16 2010 - 6:30pm
Meg Whitman: From Running eBay to Running California
This program is sold out
Can the woman who launched eBay to success help turn around California's flailing economy? As former president and CEO of eBay, Whitman has a different idea about what California needs to return to its golden days. She sees her background in business as a gubernatorial asset, one that can help her lead California into the future just as she lead eBay. Whitman will share her successes, setbacks and values, all of which helped her transform eBay from a 30-employee company into a multibillion dollar company with more than 15,000 workers, and she will discuss how the same determination will help to transform California.
Location: Lafayette Veterans Memorial Hall, 3780 Mt. Diablo Blvd., LafayetteTime: 5:30 p.m. check-in, 6:30 p.m. programCost: $12 members, $18 non-members, $7 students (with valid ID)