Past Event
Albert Maysles: The Godfather of Documentary Cinema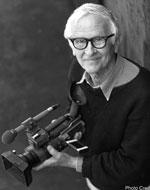 Tue, Jul 28 2009 - 6:00pm
Albert Maysles: The Godfather of Documentary Cinema
Albert Maysles, Legendary Filmmaker and Cinematographer
Maysles is considered the dean of documentary filmmaking. Along with his brother David, he pioneered the craft of making nonfiction feature films, including The Beatles in the USA, Meet Marlon Brando, The Gates, Gimme Shelter, Grey Gardens and three documentaries for HBO. Nominated for an Academy Award, the recipient of a Peabody, an Emmy and numerous other awards, Maysles will share his life's work and stories from the front lines of filmmaking.
Location: SF Club OfficeTime: 5:30 p.m. wine/networking, 6 p.m. programCost: $12 members, $18 non-members, students free (with valid ID)


Albert Maysles: The Godfather of Documentary Cinema
Albert Maysles, Legendary Filmmaker and Cinematographer
Maysles is considered the dean of documentary filmmaking. Along with his brother David, he pioneered the craft of making nonfiction feature films, including The Beatles in the USA, Meet Marlon Brando, The Gates, Gimme Shelter, Grey Gardens and three documentaries for HBO. Nominated for an Academy Award, the recipient of a Peabody, an Emmy and numerous other awards, Maysles will share his life's work and stories from the front lines of filmmaking.