Dr. Gloria C. Duffy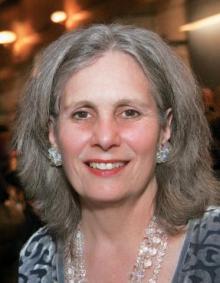 Gloria Duffy has been president and CEO of The Commonwealth Club since 1996. She oversees the organizational strategy, programming, publications, broadcast outreach, membership activities and fundraising for the nation's largest and oldest public affairs forum. Based in San Francisco, the Club has more than 18000 members and holds more than 450 public lectures, panels and group discussions on public policy issues each year. Many of these are broadcast nationally and internationally on radio, television and the internet. The Club's weekly radio program is the longest-running radio broadcast in the nation, beginning in 1924. The Club covers topics from national defense to the arts to medicine, publishes a magazine, and maintains a news reporting and blog site for discussion of important issues at www.commonwealthclub.org/blog.
In addition to increasing membership and donations and upgrading the Club's programming, Dr. Duffy has initiated several special projects at the Club. These include Voices of Reform, which became the independent organization California Forward; Climate One; and Innovation in Education. These efforts have convened experts and stakeholders in challenging fields such as governance reform, mitigating global climate change and public school governance and financing, to build consensus for solutions and action. A legislative redistricting measure approved by California voters in the 2008 election had its origins in a Voices of Reform proposal, and it provides a model for other states for reapportioning districts through an independent commission rather than through elected legislators drawing legislative districts.
Dr. Duffy led the Club to produce its first full-length film, Final Choice, for PBS in 1998, following family members of three terminally ill individuals, as well as health-care providers, religious leaders and advocates for the disabled, as they wrestled with the issue of the choice to end life through physician-assisted suicide. She also oversaw the editing and publication of Each a Mighty Voice (Heyday Press, 2004), a book which placed important speeches at the Club in their historical context.
She has expanded the Club's digital outreach by adding video-broadcasts of Club programs, podcasts, satellite radio, television and other formats that make Club discussions accessible to users nationally and worldwide. Under her leadership, the Club has become a direct source of news and offers opportunities for blogging about public policy issues and other interactive online discussions. She opened a Silicon Valley office for the Club in 1997 and has for the first time brought Club programs to Washington, D.C., Los Angeles, and other cities.
She has led a building search and capital campaign enabling the Club to purchase 110 The Embarcadero as a headquarters for the organization. Fundraising for renovating the building is continuing.
She also writes a popular column for The Commonwealth magazine, InSight, which has been reprinted in the Congressional Record and other publications. She is a frequent guest on radio and television news and talk shows and a contributor to newspaper op-ed pages and the Huffington Post.
Professional History
Prior to becoming president and CEO of the Commonwealth Club, from 1993-1995 Dr. Duffy was U.S. Deputy Assistant Secretary of Defense and Special Coordinator for Cooperative Threat Reduction. In this role, she negotiated agreements with the former Soviet countries to dismantle their weapons of mass destruction, and coordinated U.S. assistance to these countries to meet those goals. She was awarded the Secretary of Defense Medal for Outstanding Public Service in 1995.
From 1985-1992 she founded and served as president and CEO of Global Outlook, an independent research institute on international security issues in Palo Alto, California. Global Outlook published a number of books and reports on issues such as compliance with arms control treaties (Compliance and the Future of Arms Control, by Gloria Duffy, et. al., Ballinger, 1988), attitudes of U.S. and Soviet decision-makers toward nuclear weapons and nuclear war-fighting (Minds at War, by Steven Kull, Basic Books, 1988), and changing Soviet security policies during the Gorbachev era (Burying Lenin, by Steven Kull, Westview Press, 1992). In partnership with the Institute of World Economics and International Relations of the Soviet Academy of Sciences (IMEMO), Global Outlook also worked with new parliamentary and executive leaders during the Gorbachev era and after the breakup of the USSR on designing defense policies and structures suited to civil society, and it published a series of reports on that process.
In 1984-85 she worked for the John D. and Catherine T. MacArthur Foundation in the design and establishment of its Program on International Security and Cooperation, the largest funding program in this field. She returned to the Foundation in 1992-93 to assist in establishing a Moscow office and Russia funding program for the Foundation.
From 1982-1984 she was the first executive director of Ploughshares Fund (http://www.ploughshares.org), the first public grant-making foundation in the field of international security and non-proliferation.
From 1980-82 she was a visiting scholar at Stanford University, at the Center for International Security and Cooperation (CISAC), where she was part of a team teaching an introductory arms control course. While there, she co-authored a textbook on the history of arms control (International Arms Control: Issues and Agreements, Stanford University Press, 1984, with Coit D. Blacker).
At the Arms Control Association in Washington, D.C. (http://www.armscontrol.org), from 1978-1980 she was assistant director and editor of the magazine, Arms Control Today.
And in 1977-78 she was a resident consultant at the Rand Corporation, in Santa Monica, California, where she primarily did research on Soviet nuclear energy and non-proliferation policies for the International Nuclear Fuel Cycle Evaluation (INFCE), under contract with the U.S. Department of Energy. She authored the report, Soviet Nuclear Exports (Rand Corporation, 1977), which was a supporting document for the INFCE.
She has testified on treaty compliance and threat reduction before the House Foreign Affairs Committee (1987 and 1994), at the UN Committee on Disarmament and before other U.S. and international bodies. She has been involved in dispute resolution efforts including of ethnic conflicts in the Caucasus region and environmental and social issues in the United States. She has lectured on the former Soviet Union and international security issues at many academic institutions. She has chaired panels at professional society meetings, including the International Studies Association and the American Association for the Advancement of Science annual meeting.
Professional Service
For 10 of its first 11 years, from 1997-2007, Dr. Duffy chaired the Board of Directors of the Civilian Research and Development Foundation (www.crdf.org). During this time, the Foundation raised and spent more than $300 million on collaborative international scientific research between U.S. scientists and those in the former Soviet Union, the Middle East and several other regions. CRDF, which operates under the umbrella of the National Science Foundation, has provided employment for thousands of former weapons of mass destruction scientists, and created trans-national research projects on AIDS-HIV, minimizing the effects of terrorist acts on civilian populations, and in other fields. She continued to serve on the Board of Directors of CRDF until the end of 2009.
Dr. Duffy serves on the Board of Directors of Ploughshares Fund and chairs the board's Nominating Committee. Ploughshares funds grantees work against the spread of weapons of mass destruction, for the reduction and elimination of nuclear weapons, and for the prevention of armed conflict.
She serves on the international advisory boards of the Freeman-Spogli Institute of International Studies at Stanford University (http://fsi.stanford.edu/), the Center for Non-Proliferation Studies at the Monterey Institute of International Studies (http://www.cns.miis.edu), and the Harriman Institute at Columbia University. She also serves on the Board of Advisors of the Program on Policy Attitudes (http://www.pipa.org), a global public opinion research organization based at the University of Maryland.
She served for seven years on the board of, and as treasurer of, the Compton Foundation, which funds in the fields of environment, population and peace.
She has served on the boards of directors of national and community organizations, including the Bulletin of the Atomic Scientists, Computer Professionals for Social Responsibility and others.
Dr. Duffy served on and chaired the Selection Committee for the Truman Scholarships, the national memorial to President Truman, for several Western states, from 1997-2007.
She has served on selection committees for the Council on Foreign Relations fellowships and the American Association for the Advancement of Science fellows program. She served on the Science and International Security Committee of the AAAS, and on grant selection committees for the U.S. Institute of Peace and other organizations. She served for twelve rounds on the Selection Committee for the MacArthur Foundation Research and Writing Grants competition. She has also advised other foundations on their grant-making programs.
In 2008 and 2012, she chaired the Social Science and Security Studies selection committee for the University of California National Labs Management Fee grants, which awarded $20 million to civilian research projects within the UC system.
She is a member of the Council on Foreign Relations, the Pacific Council on International Policy and the Silicon Valley Capital Club.
Community Service
Dr. Duffy serves on the Board of Trustees (and has served on the Executive Committee, and chaired the Academic Affairs Committee) at her undergraduate alma mater, Occidental College in Los Angeles (http://www.oxy.edu), where she also served on two presidential search committees. She has also served on the Board of Trustees and the Executive Committee at Dominican University of California.
From 1996-1998 she served as president of the board of the Guadalupe River Park and Gardens Corporation (www. grpg.org), supporting the development of the 250-acre central park in San Jose, California.
In 1987 she co-founded the World Forum of Silicon Valley, an international affairs public education organization and served as the first president of its board. She is a senior fellow of American Leadership Forum, Silicon Valley.
Education
Dr. Duffy attended public schools in Lafayette, California, including Acalanes High School. She received her A.B. magna cum laude in 1975 from Occidental College and her M.A. (1977), M.Phil. (1980), and Ph.D. (1991), all in political science, from Columbia University in New York, where she studied at the Harriman Institute. Her Ph.D. dissertation analyzed how the discovery of a Soviet combat brigade in Cuba in 1978 doomed U.S. Senate ratification of the SALT II arms control treaty.
She also holds a Doctor of Humane Letters (honoris causa) awarded by the University of San Francisco in 2006.
Honors and Awards
Dr. Duffy was a College Scholar at Occidental College, a President's Fellow at Columbia University, and a Hubert H. Humphrey Doctoral Dissertation Fellow at the U.S. Arms Control and Disarmament Agency.
She has been named one of the most influential women in both San Francisco and Silicon Valley, by the San Francisco Business Times and the San Jose Business Journal, in each of several recent years.
In 2002 she received the Janet Gray Hayes Award as the woman in San Jose contributing most to the local, national and world communities. She has received awards from the National Conference on Community and Justice, the World Forum of Silicon Valley, the Alameda County Commission on the Status of the Women, the San Jose Mercury News and the Women's Fund, and other groups.
Dr. Duffy has delivered commencement addresses at the University of California, Berkeley, the College of Marin and the University of San Francisco. She is a frequent public speaker and lecturer on college campuses and to professional and community organizations.
Publications
Dr. Duffy is the co-author, editor or contributor to a number of books, mainly in the fields of arms control and international security. She has published articles in most major newspapers in the United States, including The New York Times, The Washington Post, the Los Angeles Times, The Boston Globe and the Chicago Tribune. Her articles have appeared in scholarly journals such as International Security, and magazines including Science, the Bulletin of the Atomic Scientists, and Arms Control Today. She co-authored a report on national missile defense with former Defense Secretary William J. Perry in 2000.
Personal
Dr. Duffy co-manages her family's real estate investments, and is a board member of the McCloud Land and Building Preservation Association. She is an avid outdoors-person, who enjoys hiking, skiing, swimming, yoga and other sports.
She is married to Rod Diridon, Sr., former chair of the Santa Clara County (CA) Board of Supervisors, former chair and member of the California High Speed Rail Authority and current executive director of the Mineta Transportation Institute, in San Jose, California. They have two children, Mary Diridon and Rod Jr., and four grandchildren. They live in Santa Clara, San Francisco, and McCloud, California.